British Values
We believe that children's educational experiences should support their progress as individual people and citizens as well their academic progress.
We offer a wide range of experiences and activities that combined with our general school policies promote each child's personal development of the core values needed to be a successful and valuable member of our society. We believe in educating the children in our care to be good citizens and to develop the skills they need to have a successful and productive life.
Each year we take part in a ceremony at Brentwood Cathedral. Each school within the Brentwood Diocese nominates a pupil to be their Citizen of the Year.

This prestigious award is presented by the Bishop.
In 2011 the government set out its definition of British Values and expects all schools to include these in their curriculum. These values are:
Democracy

The Rule of Law

Individual Liberty

Mutual Respect

Tolerance of those of different faiths and beliefs
Mutual Respect
'We respect our friends and encourage them to do well'
(year 2 pupil)
Democracy
Democratic values are an intrinsic part of St. Anne Line Catholic Infant School's ethos. Adults listen to children's views and value their opinions. Pupils have the opportunity for their voices to be heard through the School Council and Pupil Voice which contributes to staff appointments and subject reviews. The school regularly demonstrates how pupils should contribute and cooperate as well as considering the views of others.
Rule of Law
The importance of rules and laws are consistently reinforced. We follow the Golden Rules at all times.
All staff have high expectations of pupils and rewards and sanctions are well understood, through the school's behaviour policy. We have visits from the Police and Fire Service who support, and re-inforce messages of right and wrong.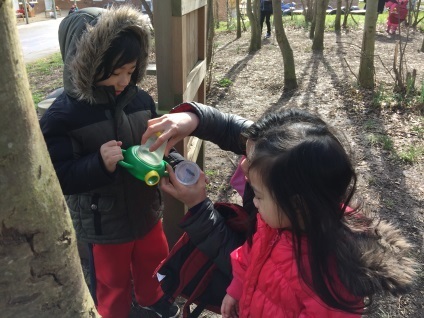 Our ECO Warriors try to help children and families respect our environment by devising rules which reflect each person's responsibility to protect our wonderful world.
Individual Liberty
The school helps pupils develop their self-knowledge, confidence and self-esteem through our Catholic ethos – particularly in our expectations of how we treat each other. Children are encouraged to take responsibilities for their behaviour and their learning. Consideration for others is promoted through Religious Education, SMSC education and assemblies. E-Safety lessons help children make choices in a safe manner.
Tolerance of different faiths and beliefs
Through our curriculum and spiritual life of the school pupils are made aware of our culturally diverse society. The school community is rich in its diversity and other religions are studied within Religious Education. As part of our core values regardless of ability, faith, heritage or race, pupils often take the initiative in fundraising for international charities. The school has annual fundraising for CAFOD.