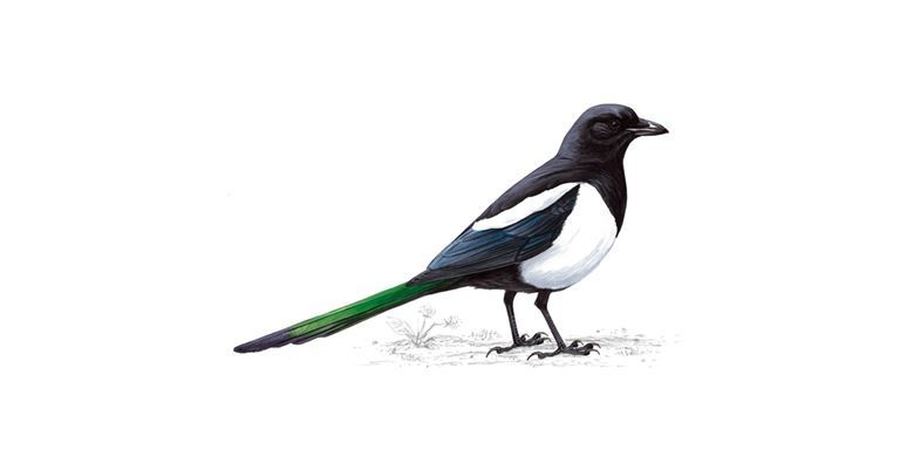 Magpies
Welcome to our new blog space!
Here we will be blogging about what the limited number of children in school are doing. We will also be adding new ideas for home learning activities.
Don't forget to keep an eye on your own class blog for direct messages from your teachers.
Week Beginning 1st June
This week the Keyworker group moved location into a classroom and we have begun to do some curriculum work. We are learning the story of Handa's Surprise. We learnt about Kenya and the continent of Africa in our Geography lesson. We tasted the fruit from the story and wrote descriptive sentences using adjectives. We have learnt about traditional Symbolic African art and made our own. We have also leant a traditionalCall and Response African song called Che Che Kule, have a listen to our video below.
Week 8 - Beginning 25th May
We have been looking at the book - Stickman by Julia Donaldson. The children enjoyed exploring the school forest, looking for a variety of sticks! With the sticks they found, plus the sticks Miss Roel and Mrs Wooton brought in, the children were able to create a variety of wonderful creations!
We also made hanging mobiles using old CD's. The child wanted to hang these in the trees, within the Reception playground...
Week 7 - Beginning 18th May
We have had a 'Pirate' theme this week. We listened to stories, made maps, compasses, biscuits, bunting, flags and telescopes. We also went on a treasure hunt and played 'pirate' games! What fun!
P.E.
At the beginning of this week our focus has been on exercise. We have tried lots of different sports such as gymnastics, hockey, circuit training and yoga.
Circuits
Cinderella
We also read the story of Cinderella and designed our own invitations to invite our friends to a grand party.
Week 6 -Beginning 11th May
Friday - It has been such a lovely week with the children that the time has flown by!
We'd like to say a big THANK YOU! to Ella's Mum who has provided delicious banana cake, fruit scones, pastries and noodles for the staff. We are very grateful for this kind gesture which has made each day even more enjoyable!
Today we made pinwheels that demonstrated the life-cycle of a frog and exercised whilst counting to 100 in 1's, 5's and 10's! We also looked at the jelly we had made earlier in the week to see if it had changed from a liquid to a solid.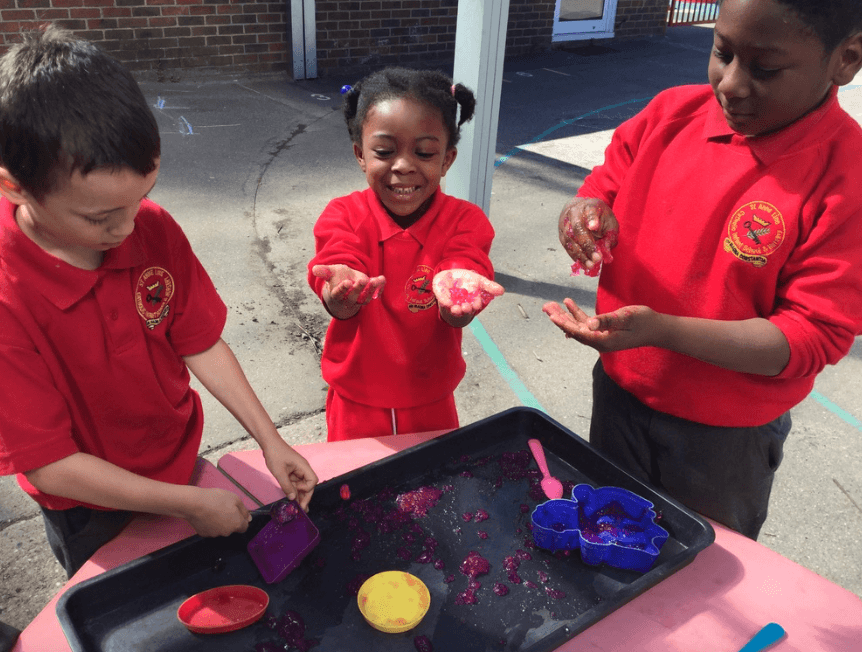 As it was a sunny day we ate ice lollies outside and in the afternoon we watched a film whist munching crisps. A relaxing way to end the week!
Thursday - It has been a very interesting day today as Mrs Jenkins brought in some tadpoles! Everyone enjoyed looking at them and then learning about the life-cycle of a frog. Mrs Gutteridge told us there was a frog in the school pond so we all went to look. Unfortunately he was very well hidden! So we didn't see him...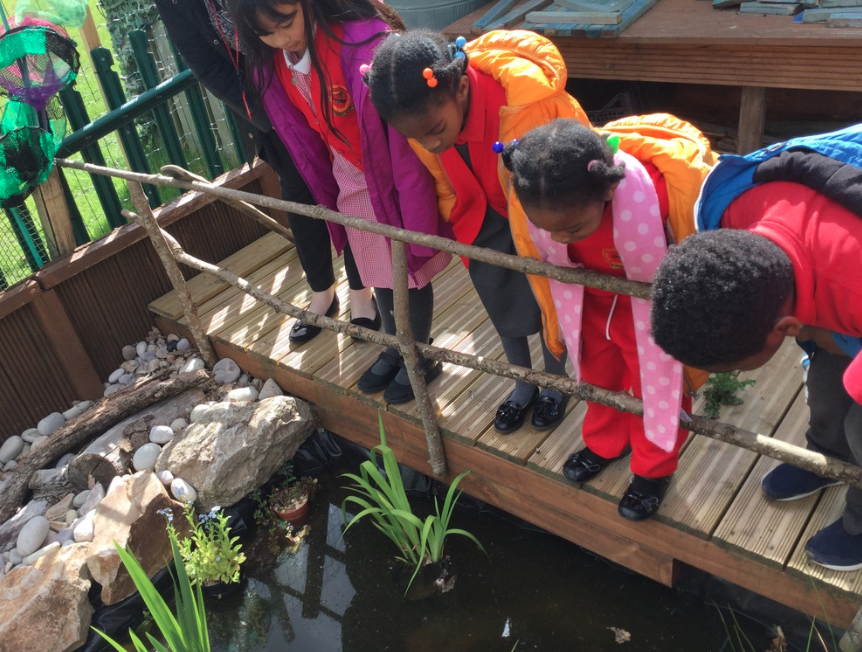 Mrs Ager helped the children make flap jacks and we had lots of laughs making static electricity that picked up paper frogs!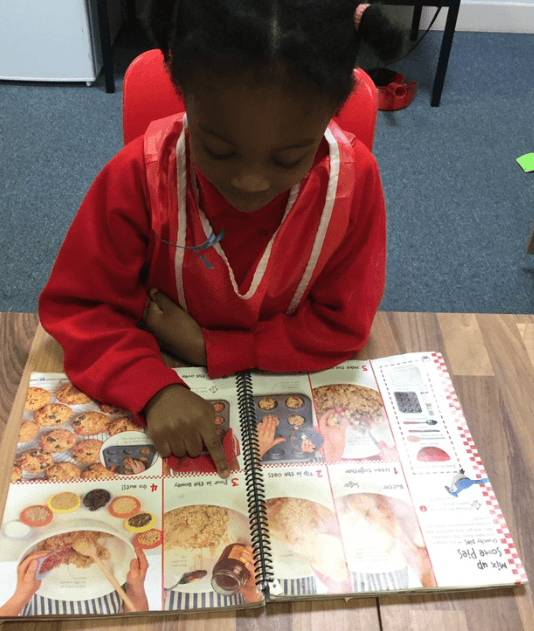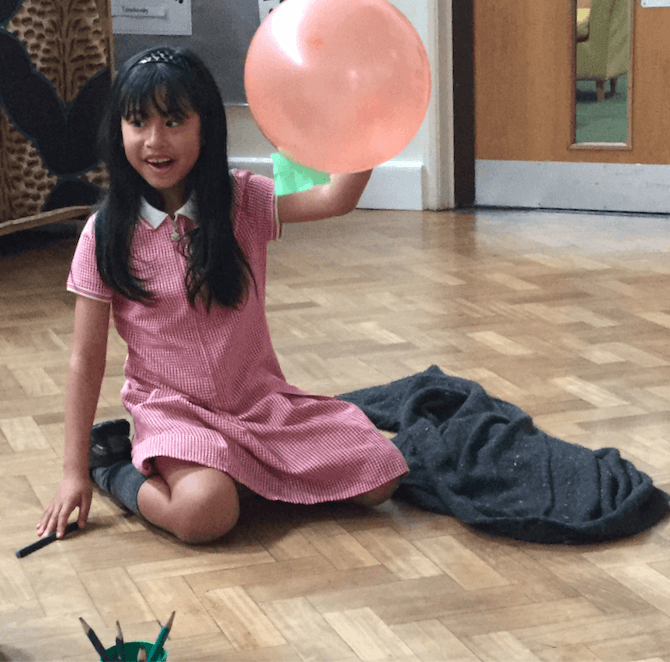 Wed - Today has been a science day with lots of experiments!
We made jelly and talked about liquids and solids and the changes that occur.Then we iced our Gingerbread biscuits and ate them for snack - they were delicious!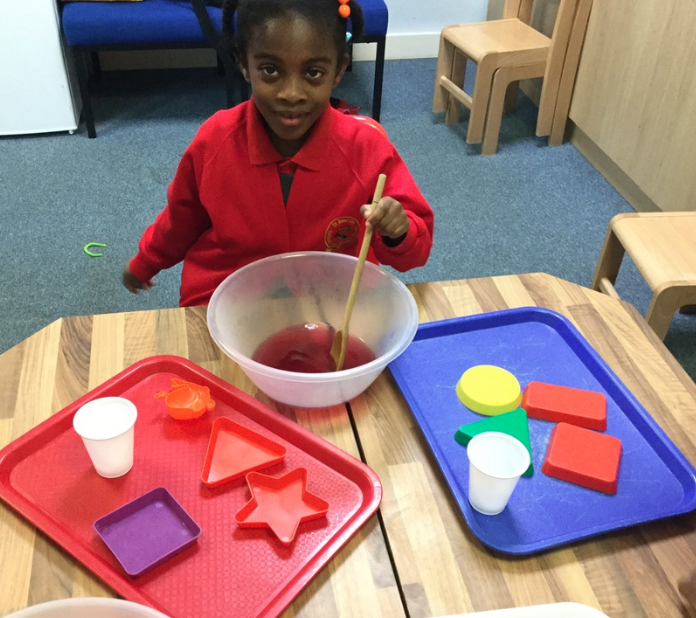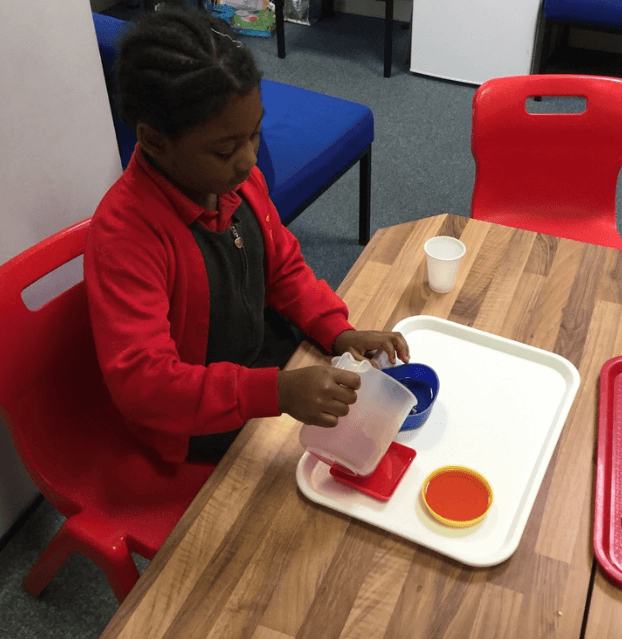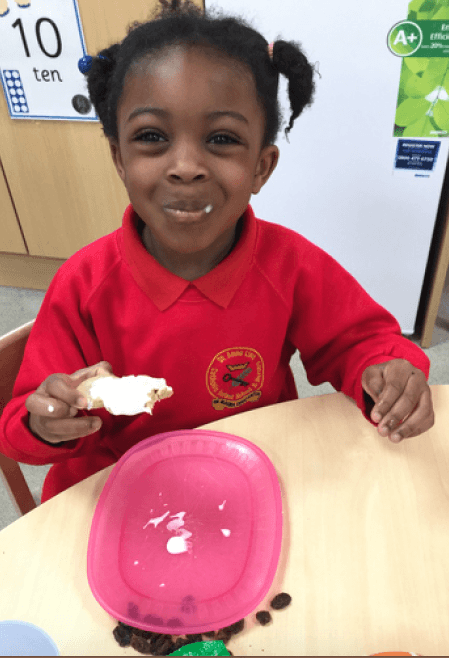 Later Mrs Jenkins led a foaming experiment- that was a lot of fun...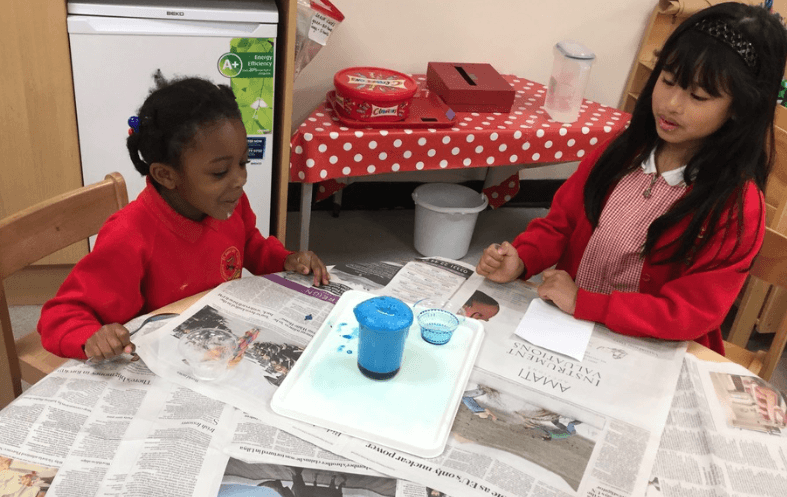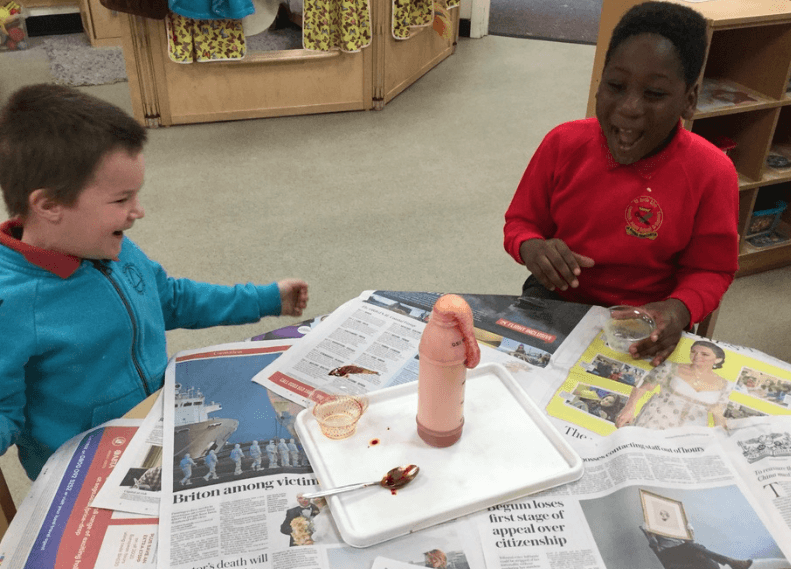 and finally we explored using different liquids such as syrup, oil, water and washing up liquid to see which were heavier. The liquids made layers in the container.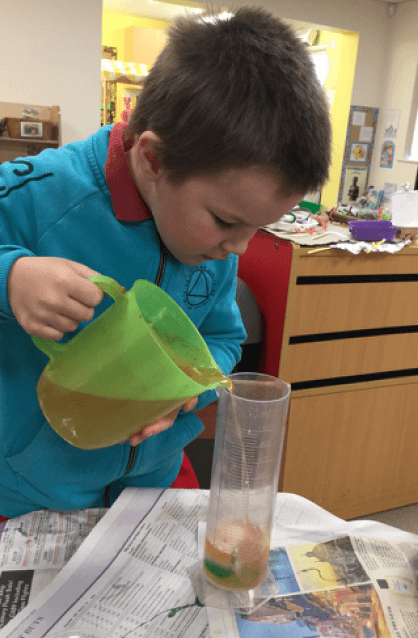 Tues - It has been another fun day and we have been baking again. This time we made Gingerbread men and ladies. We weighed out all the ingredients taking care to make sure the scales started at zero.
.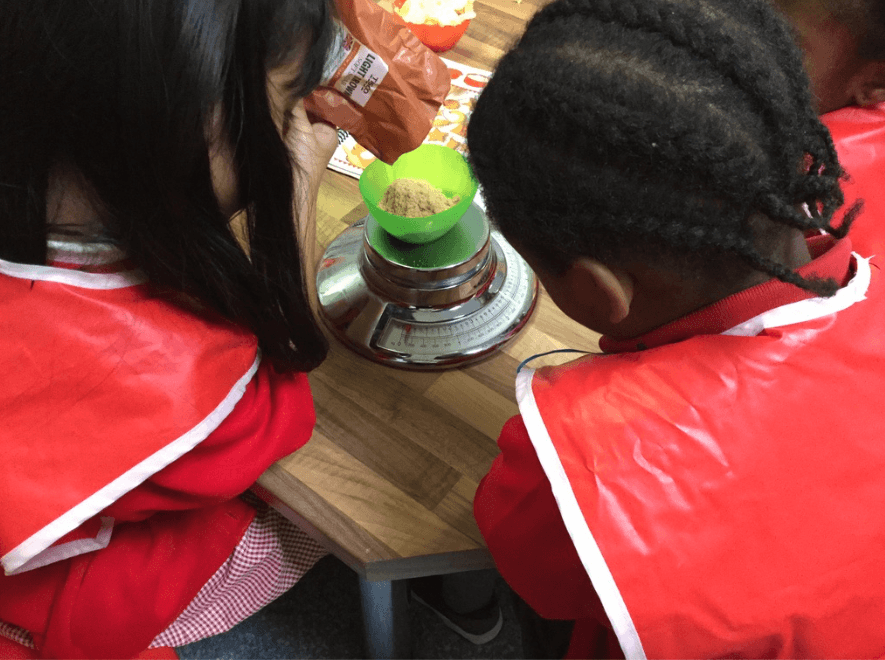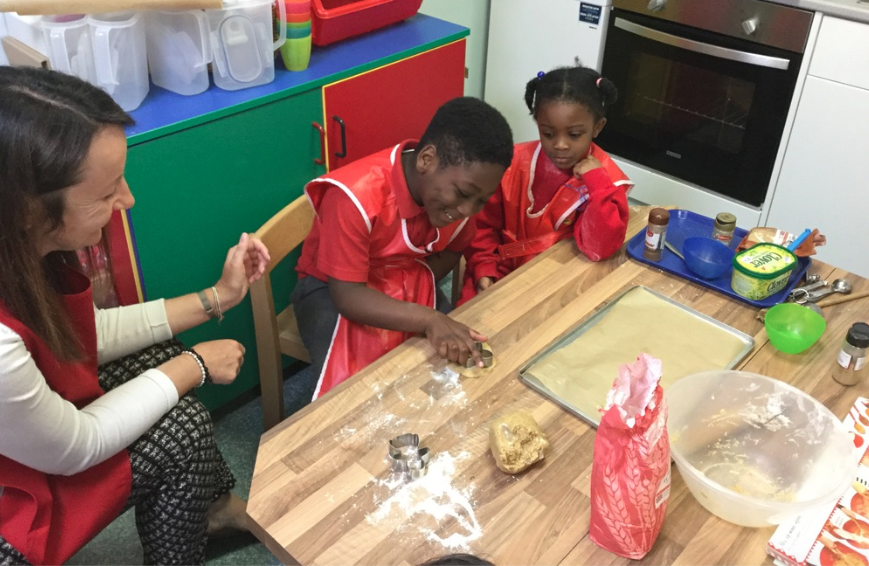 Today is International Nurse's Day and we discussed what an important job all the nurses do. It is also Florence Nightingale's birthday and we watched a video about her life. We then made cards for our wonderful nurses to say thank you for all their hard work and dedication.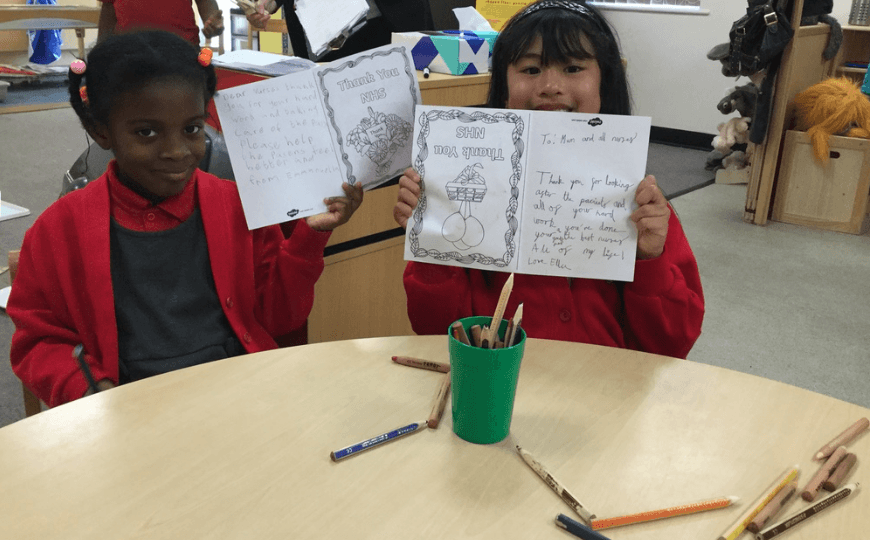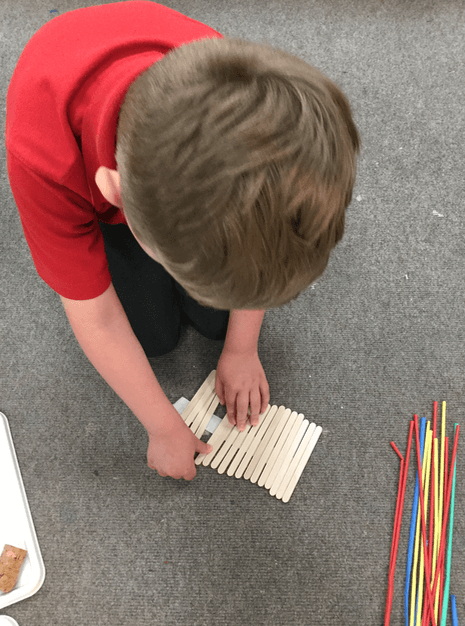 In the afternoon we investigated making boats for the Gingerbread man. We talked about what materials would be needed to make them float. Then we tested our creations! There were three tests 1. Boat on its own 2. Boat with a passenger 3. Finally the boat with a Gingerbread biscuit! Some boats floated well - but some began to sink with the poor Gingerbread man inside!! We laughed a lot!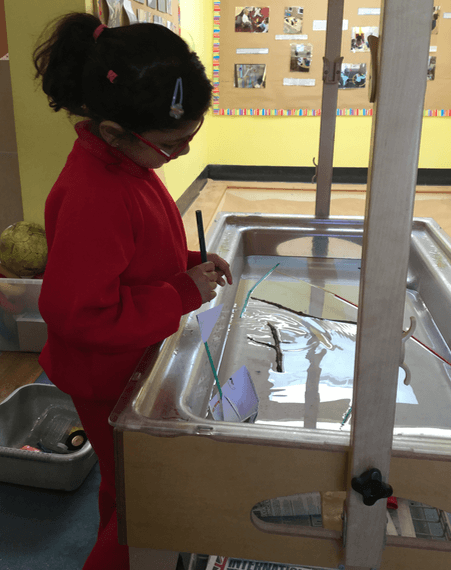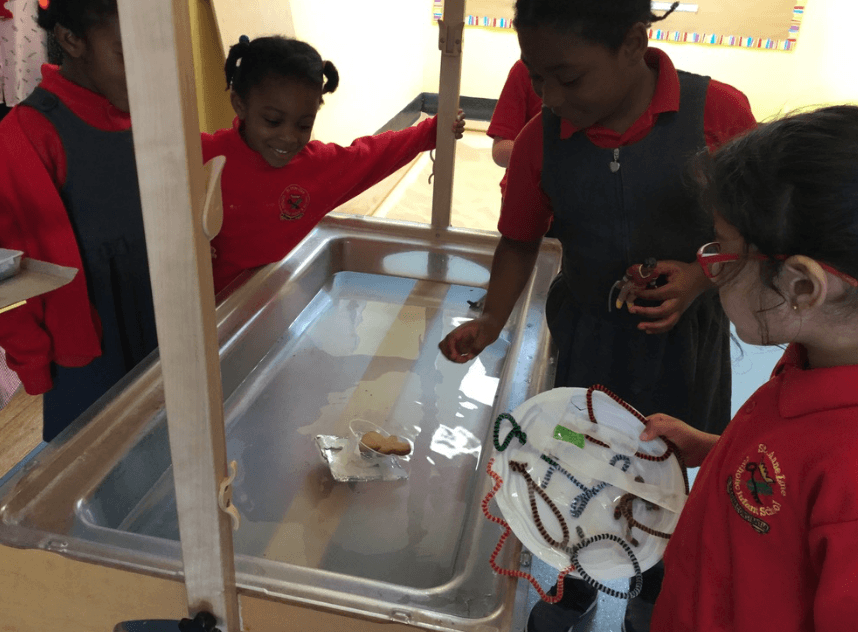 Mon - Today we have read the story of the Gingerbread Man. We made biscuits and coloured Gingerbread men and lady characters.
After lunch we tried to make strong bridges that the Gingerbread man could have used in a change to the end of the story. Everyone had great ideas!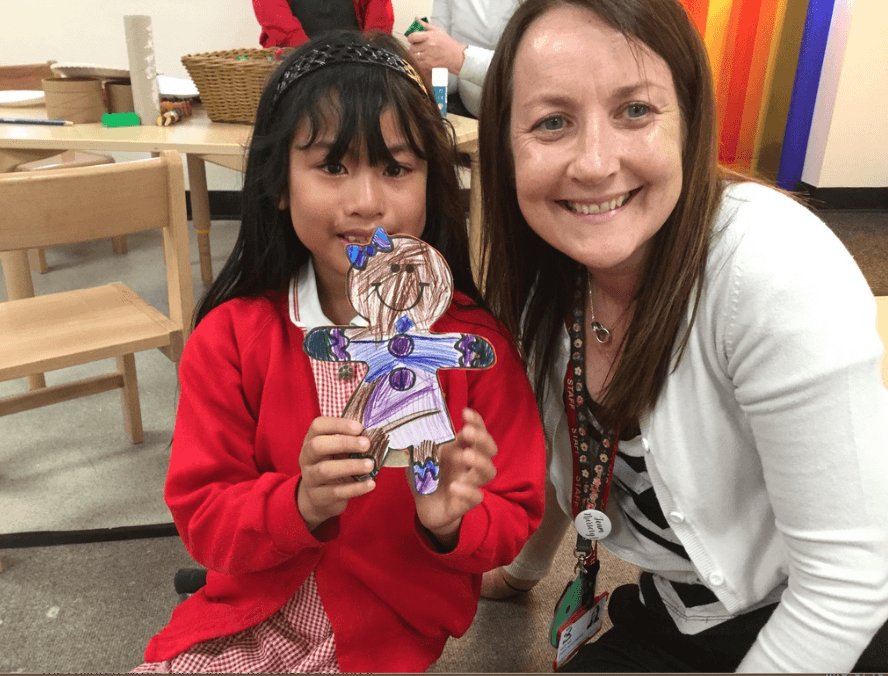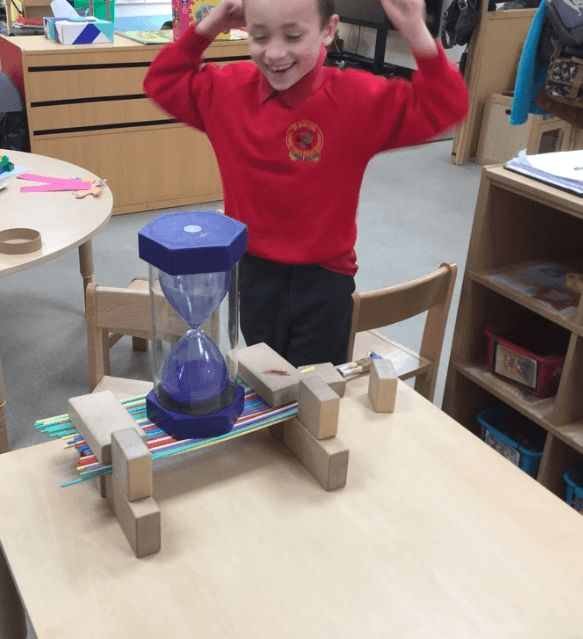 Week 5 - Beginning 4th May
The children have had a great week. They have enjoyed the fitness challenge every morning followed by maths bingo.
On Monday We made some rainbows that have been sent to the NHS workers. We read the day the crayons quit and the children wrote letters pretending to be the crayons. We really enjoyed the spaghetti and marshmallow building challenge. The weather was so nice we even got to do some shadow drawing outside.
Tuesday the children wanted to write letters to their teachers and then we made cookies which we ate later with our hot chocolate.
On Wednesday we enjoyed watching the live web cams from Edinburgh zoo and in the afternoon we made Poppys and bunting for our VE Day party.
We ended the week with a VE Day party. The children enjoyed pretending to be the children from World war 2 and celebrated at the end of the day with a party.
We hope you all enjoy celebrating this day with your families at home.
Week 4 - Beginning 27th April
We have had a wonderful week exploring nature in the school grounds and doing interesting activities in the classroom.
We've learnt about hedgehogs.
We made rainbows and said prayers for the NHS and key workers.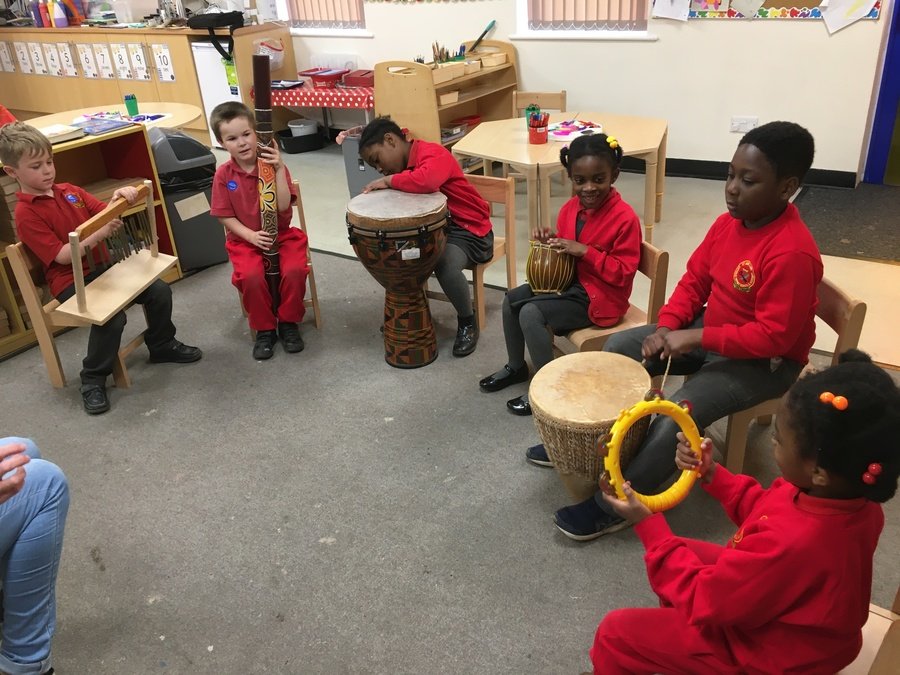 What we are doing in school
Week 3-Beginning 20th April
We have had a very busy week in Magpies. We made banana cakes, cookies and decorated chocolate cakes to share with our families. We had fun in the sandpit and created some art. Victor built a zoo! We have learned about Saint George and the dragon. We made our own shields and flying dragons. We have also made some cheerful flowers for the office. On Monday we even had a picnic lunch outside!
Week 2 - Beginning 30th March
Friday - We have had a busy day today with our Easter sunset art, making snake habitats and octopuses. We have also been outside looking for some signs of spring.
Thursday - Today we made 'Rays of Hope'. We wrote messages on our sunshines to help cheer people up through difficult times.
We also did lots of carpentry work and made some exciting items including a table, a sign for our carpentry shed and even a DJ deck!
Wednesday - This morning we had lots of fun making Easter chicks. We used split pins so that the eggs can open and close.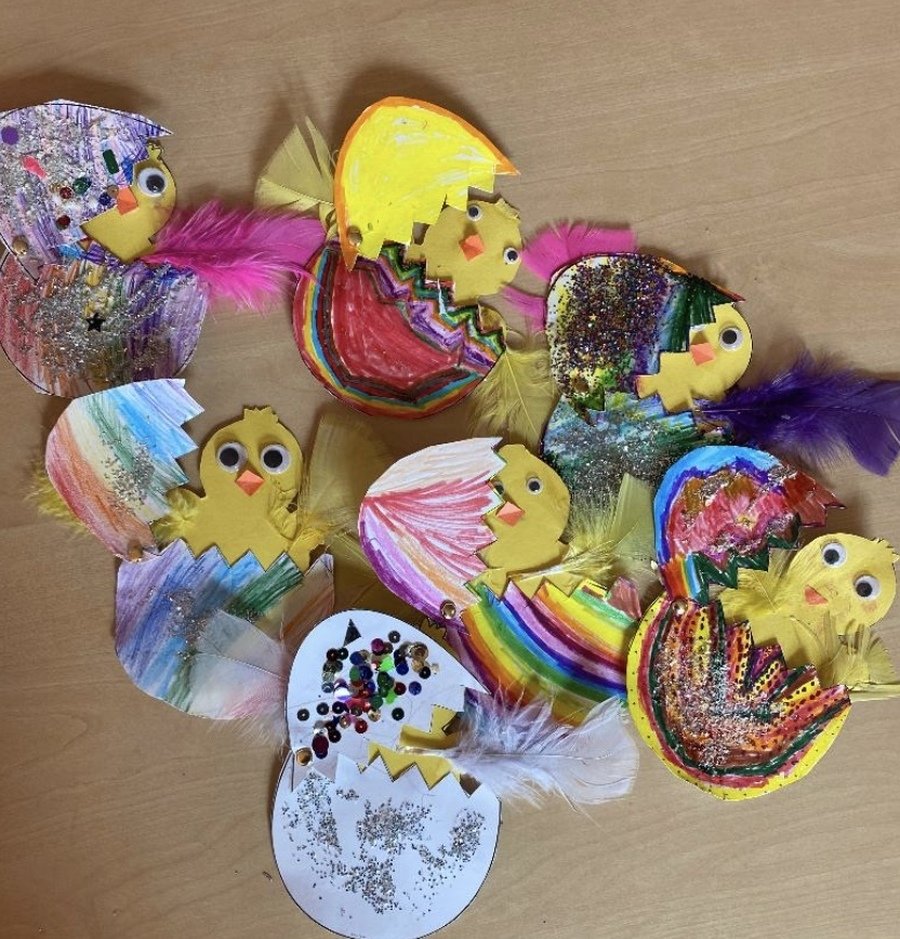 Tuesday - Today we made 'prayer bears' together.
Week Beginning 23rd March
We painted a rainbow to remind us good times will always come.
The children wrote some lovely messages around it.
Today we played some sports races in the hall.
Then we talked more about hatching eggs and made some chocolate Easter nests
Today we made rocking Easter chicks. Simply fold a paper plate in half, paint and decorate, finally cut out a triangle and stick it to one end for a beak.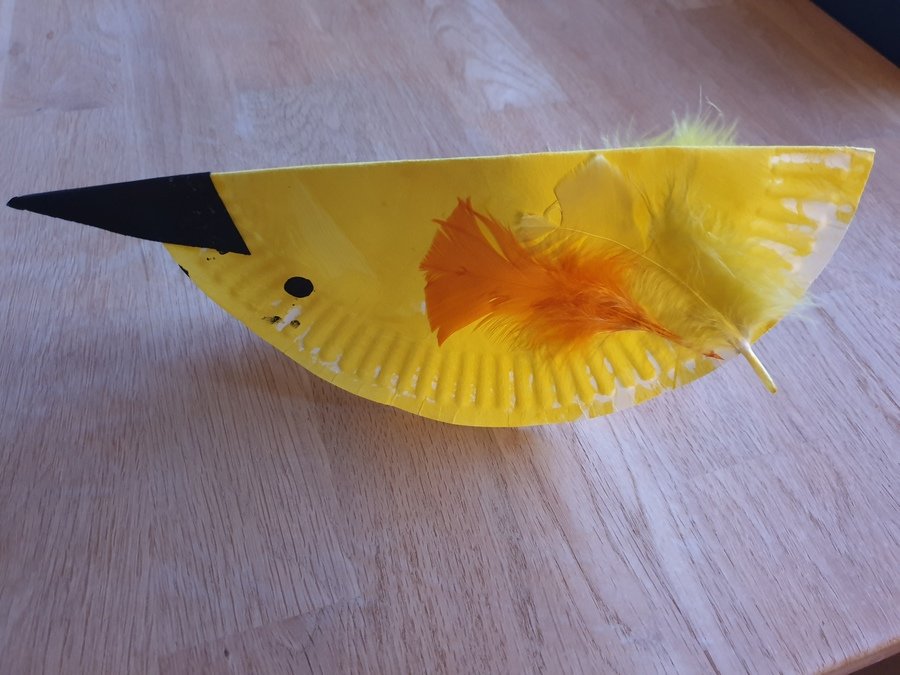 We have started our day with a Joe Wicks workout.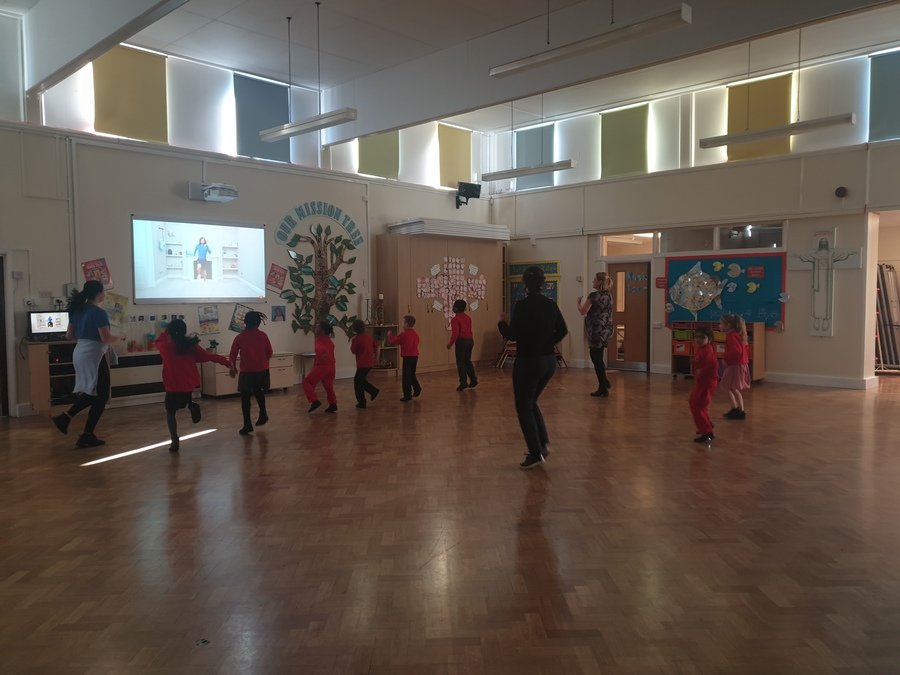 This afternoon we are painting rainbows to take home and put in our windows to help everyone feel bright and cheery.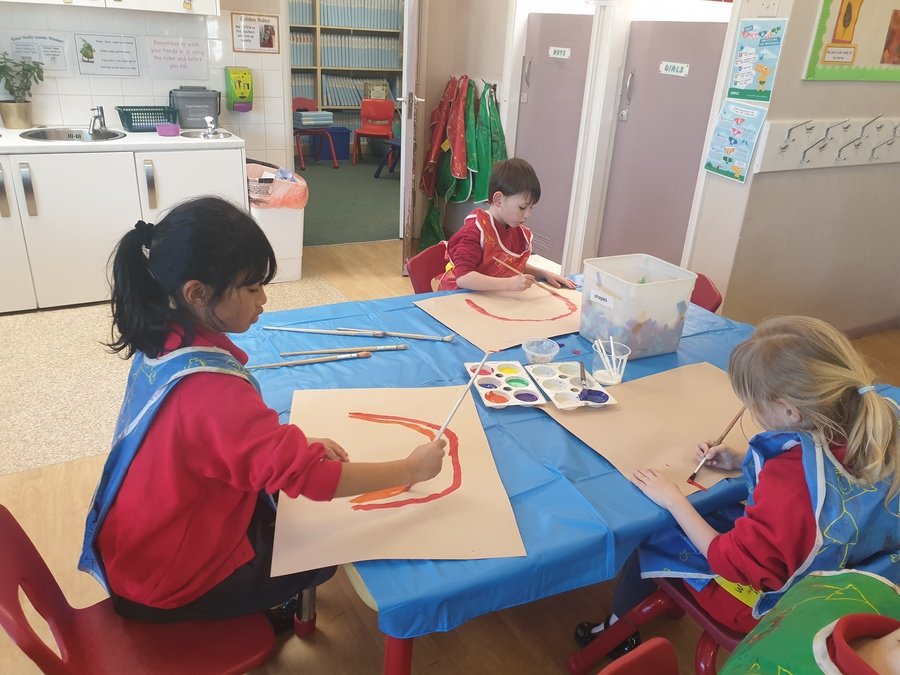 Exercise not only keeps our body fit and healthy but also makes us feel happy to. We have been doing lots of exercise at school this week including circuit training. Have a look at our circuit video (week 7) and have a go at setting up your own circuit at home. There are also some ideas below.
Can you have a look around your garden or local area when out for your exercise walk to find any plants with blossom or buds on.
Many of us have noticed how much more wildlife there is around at the moment because we are all staying inside animals can explore more. Keep a look out for butterflies and bees who are at their busiest during the month of May.
If you have a garden could you make a bug hotel using sticks.
Today we made 3D flowers to decorate the entrance of our school. If you would like to make your own I have included instructions below.
First draw a large flower on a sheet of thick paper (sugar paper is ideal, but any painting paper would work.)
Carefully cut around your flower.
Draw around your flower on a second piece of paper.
Carefully cut your second flower out.
Using a stapler, staple your 2 flowers together. (Only staple the edges.) LEAVE ONE PETAL OPEN, DON'T STAPLE IT YET!
Fill your flower with screwed up newspaper. Be gentle so it doesn't rip.
You can now staple the remaining petal.
Decorate however you like! We used paint.
You can do this with lots of different shapes. Why not try stars, hearts, fish or your own idea? Reception and Nursery please post a photo on tapestry as we would love to see it!
For instructions on making a star I have included a link.
If you want to make banana cake at home this is the recipe we followed.
125g butter

150g caster sugar

1 egg, beaten

2 very ripe bananas, mashed

190g self raising flour

60ml milk
Melt the butter.
Mash the bananas.
Mix all the ingredients together in a bowl.
(We added chocolate chips as well!)
Put the mixture into cake cases and bake for around 15 minutes at 170 C / Fan 150 C / Gas 3, or until a skewer comes out clean.
Make an Easter chick. If you don't have a paper plate at home then simply draw or paint onto paper.
Find out about an animal that hatches from an egg. Make a poster about what you learn, or write about then animal in your home exercise book.
Can you learn the correct names and order of the colours in the rainbow whilst making a rainbow picture?
Try making a Ray of Hope. You can paint or colour in a sunshine and write a message to make someone feel happy. Have a look at the ones we have been doing in school.
When you are in your garden or out having a walk see if you can spot any signs of spring. Can you see any flowers such as daffodils, tulips or daisies?Are there any buds in the trees or can you hear the birds singing? Have a look at the pictures that the children in school have been paining of cherry blossom trees. Have a go at home!