Our Curriculum Statement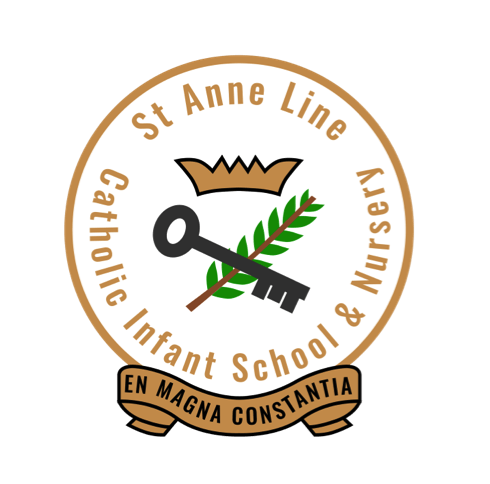 Intent
At St Anne Line Catholic Infant School we strive to instil a love of learning, where we are the starting place to encourage a lifelong journey of discovery. Through our core values, we foster an environment where the emotional (including mental health), physical, academic, social, moral, spiritual, and cultural development of each child is considered. Children learn best when experiences are first-hand, linked to their interests and which also offer them exciting and awe-inspiring encounters. We aim to create life-long learners and children who are encouraged to think creatively, to question and to explore. We systematically teach key learning behaviours which involve teaching children how to learn and develop resilience and responsibility, how to work effectively within a team and to become aware of themselves as learners.
Our curriculum is mapped to ensure full coverage of the National Curriculum and provides a range of experiences for our pupils through an enhanced curriculum. Our curriculum is designed to challenge, engage and motivate, with the goal that our learners progress academically and become successful, independent, confident individuals, who make a positive contribution to the community and society - both now and in the future.
Our motto of "We love to learn in Jesus, In Jesus we learn to love" is central to all our teaching and learning and inspires children to respect their talents and gifts. We are fully committed to nurturing each child's unique potential by valuing and celebrating their individual efforts and perseverance within a secure 'Growth Mindset" environment. Excellent teaching and learning give children opportunities to be successful and take risks in a safe, calm environment where classrooms and other learning spaces promote creativity and high aspiration.
Implementation
The curriculum consists of many planned experiences in school and out: lessons, themed days, school council, assemblies, outdoor leaning, clubs, sports, trips and visits, workshops, fund raising and community activities. Our projects aim to bring the curriculum to life through hooks to engage the children and capture their attention as well as a meaningful purpose and context for learning. Outcomes may be designed to meet the requirements of the new National Curriculum but also to develop the skills needed for learning and for life.
In KS1 planning from the Sonar Curriculum references the National Curriculum objectives to ensure full coverage of study. Our vibrant and rich curriculum is designed so that the subject specific skills are scaffolded within a cross-curricular theme or context each half term.
In the EYFS teaching and learning is focused around "Planning in the Moment "and is thus child led. Learning is staged and builds on prior knowledge providing the children with the opportunity to revisit vital skills and knowledge regularly and embed this learning; therefore, becoming experts. To implement our intent, we ensure that our children are invested in their learning. Lessons are engaging and follow a creative curriculum which is designed to interest, inform, and inspire our children.
Impact
Pupils leave St Anne Line Infant School and Nursery emotionally resilient with a secure understanding of the academic content. They understand how to be socially, morally, spiritually, and culturally responsible. The children are aware of how to make positive contributions to the local area and how to endeavour to be the best that they can be.
We have 3 foci when it comes to measuring the impact of our curriculum for our children.
Through our curriculum we intend that our children are well prepared for the active role they will play as citizens of Britain and the world.
Ensuring high impact on children's emotional development:
Personal development is outstanding.
Children are happy and enjoy coming to school.
Parents and carers are happy with the school and high proportions would recommend us to others.
Through our curriculum we intend that our children will develop a strong moral compass enabling them to go out into the world and making the right decisions for themselves and their community.
Ensuring high impact on children's social development
Behaviour and attitudes are outstanding.
Children demonstrate our vision and values in their learning as well as in their behaviour in and around school
Children learn to make the right choices for their safety and the choices children make benefit the school and local community.
Through our curriculum we intend that all our children are well prepared for the next stage of their learning.
Ensuring high impact on standards
All children consistently achieve highly in all areas of the curriculum
Children make at least expected progress and attain in line with or better than national expectations.
Disadvantaged children and those with SEND achieve the best possible outcomes