Lunches
Our school meals are prepared on site in the school kitchen. The kitchen has achieved the Health & Safety Five Star Award for many years.
We recently started our own In-House Catering and as a result, we are able to ensure that the ingredients are sourced locally and are of the highest quality.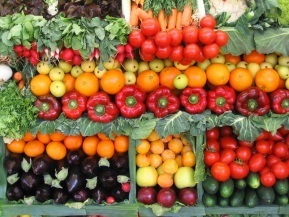 Our chef, along with his team of highly efficient staff, serves the children a variety of delicious meals.
The menu is on a three-week cycle and this is changed several times a year.
All of the menus follow the government guidelines to ensure they provide a balanced diet.
We are fortunate that the government recognises the need for children to have a healthy balanced lunch and have given infant schools a grant to provide this free of charge.
If your child has any allergies let us know and we will see how we can meet their needs.
We use ParentPay so that you can choose your child's meals in advance.
It's simple, safe, convenient and your child no longer needs to carry cash into school.
ParentPay is an online payment system for schools. It allows parents to pay quickly and securely for school meals, trips and activities, uniforms, music lessons and fees.
You simply top-up your ParentPay account online by debit or credit card, or in cash through PayPoint stores. Payment by standing order and faster payments will be available soon. Your ParentPay balance can be used immediately to pay for any of your children's items at any school using ParentPay.
Paying for your child's school meals online gives you more control and greater visibility over the food choices they are making.
ParentPay is a truly cashless catering system, making schools safer and giving you peace of mind
There's no need for children to take cash into school - you can top up your balance using one of the payment methods accepted.
Your balance will be updated daily based on the meals your child selects.
View meal choices online in schools using compatible cashless till systems.
Staying updated

-

Get important communications by SMS or email including payment alerts and general school updates.

Ways you can pay

-

You can pay securely online or if needed with cash in one of 30,000 PayPoint stores.